Fill in the information below and we will contact you within 48 hours. If you prefer, just call us! Our service requires a minimum of 5 business days advance notice. We can help you plan your event with great BBQ and also provide tents, tables, and chairs.
Menu Choices
Meat Packages
Meat packages include 2 or 3 meat combinations of the following choices:
Beef Brisket, Chicken, Pork Ribs, and Sausage.
Sides
Meat packages include 2 side combinations of the following choices:
BBQ Beans, Potato Salad, and Cole Slaw.
Additional charge for Tossed Salad or Baked Potato.
Desserts
Peach Cobbler, Apple Cobbler and Cherry Cobbler.
Sandwiches and Such
Chopped Brisket Sandwich, Sausage Sandwich(Beef & Pork), Sausage on a stick, Stuffed Baked Potato, Hamburgers, Hotdogs, Tossed Salad, and Beef Brisket per LB.
Drinks also available
Bottled water, Ice Tea, and Soda.
Call on Us for your next event!
We take pride in all aspects of BBQ and are here to serve you. We have spent many years learning how to bbq by competing in Local, State, & National events and bring that experience in preparing the very best in bbq right to you and your event. We look forward to working with you and know you will have a wonderful experience in doing business with our company.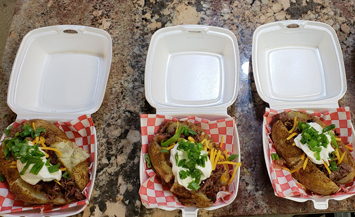 Hours
Monday - Friday 9AM - 5PM
Per Client Event
Address
PO Box 820445
Houston, TX 77282
1500 Brittmoore Rd.
Suite 301
Houston, TX 77043